OTR wheel rim Solution provider 35-63 inch open-pit mining machinery demountable easy change rim assembly and components

Product details
| | |
| --- | --- |
| Product name | OTR wheel rim 25-35 inch construction wheel rim and components |
| Standard | TRA/ETRTO/JATMA/IATF16949/ISO9001/ISO14001 |
| Welding | Flash Welding |
| Structure | Tube or Tubeless 3pcs 5pcs 7pcs Construction Machinery OTR wheel rim |
| Color | CAT yellow or OEM |
| Raw material | Q355/S355JR/ASTM grade 50 |
| Surface Treat | Surface coating, E-coating Available |
| Painting Brand | OEM available |
| Supply Ability | 100000 Set/month |
| Orienitation | Aftermarket service station, Repair station, Support station, Construction contractor, Machinery OEMs |
Hot Sale Product for your reference

Diameter

Wheel Size

TU/TL

Structure

Tire Size

Application Vehicle

35"

35-15.00/3.0

TL

5/7PCS

21.00R35

Mining Dump truck 75450, 75453, 75454 demountable wheel rim

35"

35-17.00/3.5

TL

5/7PCS

24.00R35

CAT775 off-highway-rock-truck easy change wheel rim

KOM 75B payloader easy change wheel rim, HD605 Rigid dump truck easy change wheel rim assembly, TR45 dump truck easy change wheel rim assembly and components

35"

35-27.00/3.5

TL

5/7PCS

33.25R35

Rigid dump truck easy change wheel rim assembly

35"

35-31.00/4.0

TL

5/7PCS

37.25R35

Caterpillar 631G-637G Wheel Tractor Scrapers demountable wheel rim assembly

39"

39-28.00/4.0

TL

5/7PCS

33.5R39

Rigid dump truck demountable wheel rim assembly

39"

39-32.00/4.0

TL

5/7PCS

40/65R39

Articulated dump truck demountable wheel rim assembly

39"

39-32.00/4.5

TL

5/7PCS

41.25/70R39

LH625E underground loader wheel rim, CAT 990 wheel loader wheel rim assembly

45"

45-36.00/4.5

TL

5/7PCS

45/65R45

CAT 992K wheel loader multi piece wheel rim, Kom WA800-3/WA900-3 wheel loader 5pcs wheel rim

49"

49-15.00/3.0

TL

5/7PCS

21R49

wheel loader 5pcs wheel rim

49"

49-17.00/3.5

TL

5/7PCS

24R40

CAT 772 off-high way truck wheel rim, CAT773 OTR steel wheel rim

49"

49-19.50/4.0

TL

5/7PCS

27.00R49

CAT 777 Rigid dump truck wheel rim, Kom 785-7 Articulated dump truck wheel rim

49"

49-22.00/3.5

TL

5/7PCS

31/80R49

TR100 Mining dump truck wheel rim, EH1700-3 mining quarry truck wheel rim, Kom HD785-7 Rigid dump truck demountable wheel rim

51"

51-22.00/4.5

TL

5/7PCS

30.00R51

Mining dump truck wheel rim

51"

51-24.00/5.0

TL

5/7PCS

33.00R51

CAT 785 776 Mining Haul truck wheel rim; CAT993K Wheel loader wheel rim, KOM 1500-7 Rigid Dump truck wheel rim

51"

51-26.00/5.0

TL

5/7PCS

36.00R51

CAT 789C Mining truck wheel rim; Cat 784 Cat795 off high way haul truck; KOM630e Giant mining dump truck wheel rim;

51"

51-40.00/4.5

TL

5/7PCS

50/60R51

CAT 785D Mining Haul truck wheel rim, KOM HD1500-7 Mechanic OTR wheel rim

57"

57-27.00/6.0

TL

5/7PCS

37.00R57

CAT 789 Mining Haul truck wheel rim, KOM 630E, KOM 730E Giant Mining Haul truck wheel rim; EH3500AC-3 Haul quarry wheel rim

57"

57-29.00/6.0

TL

5/7PCS

40.00R57

CAT 793 Mining Haul truck wheel rim , CAT 798 Mining Haul truck wheel rim, KOM 830E Mining Haul truck wheel rim

57"

57-32.00/5.0

TL

5/7PCS

44/80R57

Mining Haul truck wheel rim

57"

57-32.00/6.0

TL

5/7PCS

46/90R57

EH4000AC-3 BELAZ-7531 Mining Haul truck wheel rim

57"

57-32.00/6.5

TL

5/7PCS

48/95R57

KOM 830E Mining Haul truck wheel rim

57"

57-34.00/6.0

TL

5/7PCS

50/90R57

Mining Haul truck wheel rim

57"

57-36.00/6.0

TL

5/7PCS

50/80R57

KOM 860E, CAT 994 Mining Haul truck wheel rim

57"

57-44.00/5.0

TL

5/7PCS

55/80R57

Mining Haul truck wheel rim

57"

57-44.00/6.0

TL

5/7PCS

55.5/80R57

CAT 994 Mining Haul truck wheel rim

57"

57-47.00/5.0

TL

5/7PCS

60/85R57

Mining Haul truck wheel rim

57"

57-47.00/6.0

TL

5/7PCS

58/85R57

KOM WA 1200-6 Giant Mining loader wheel rim

63"

63-36.00/5.0

TL

5/7PCS

53/80R63

KOM930e Mining Haul truck wheel rim ; CAT797 ADT wheel rim, EH5000AC-3 Mining Haul truck demountable wheel rim

63"

63-41.00/5.0

TL

5/7PCS

55/80-63

KOM 960E ADT wheel rim, CAT797Mining Haul truck wheel rim

63"

63-44.00/5.0

TL

5/7PCS

58/80R63
59/80R63

CAT 797F, CAT795F Mining Haul truck wheel rim, T264,T282C,T284 Mining Haul truck wheel rim
Rarlong machinery is mainly specialized in manufacturing and exporting steel wheel rim, OTR wheel Rim, OTR wheel, Earth-mover Wheel Rim, Engineering Wheel Rim products diameter from 8inch to 63inch, offers the widest range of engineered wheel rim to the Industrial, Mining, Earthmoving, Crane and Agricultural markets, and is especially professional in OTR wheel and earthmover wheel with mulit-pieces.

Our Supply capability covering: OTR EASY CHANGE DEMOUNTABLE WHEEL RIM from 25-35 inch multi piece (3pcs, 5pcs, 7pcs) steel wheel rim and components/parts for WORLD TOP BRANDS like CAT, KOM, VOL,etc. Including earthmover wheel rim, heavy duty truck wheel rim, excavator wheel rim, motor grader wheel rim, quarry truck wheel rim, rigid dump truck RDT wheel rim, articulated dump truck ADT wheel rim,
Rarlong Machinery's single-piece and multi-piece series OTR Wheels for construction industries fully utilize high strength low alloy (HSLA) steel. Heat treated material is used for critical components of multi-piece wheel assemblies. Auto butt-welding is widely used on rim, ring, gutter, and other circular parts; All circumferential weld seams are inspected by non-destructive inspection to ensure zero defect.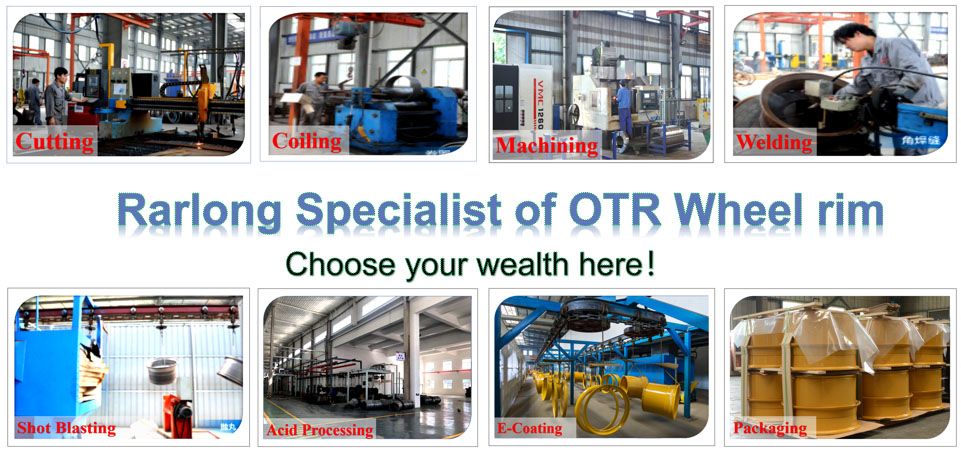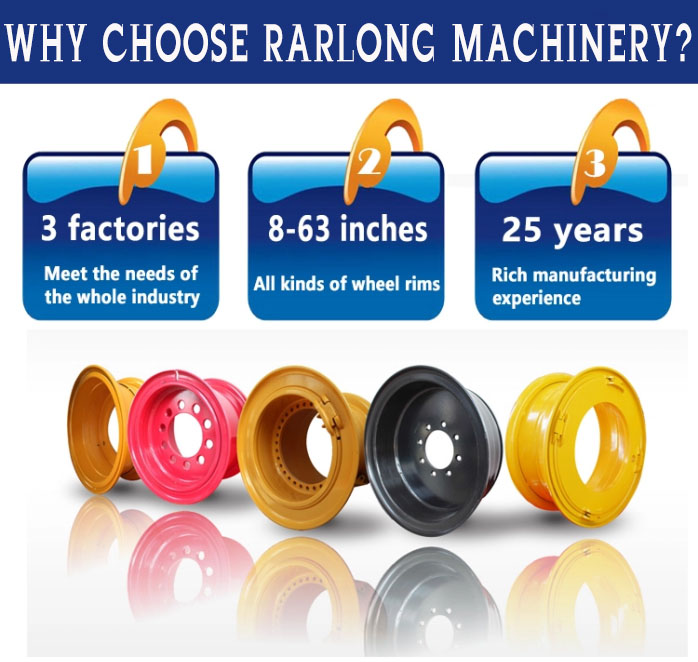 Why Choose Rarlong Machinery?
Rarlong Machinery is specialized in manufacturing and exporting OTR wheel rim assembly for construction machinery like earthmover, motor grader, excavator, quarry dump truck, articulated dump truck, rigid dump truck etc.
1.Global Markets and OEM experience: Our products have exported to more than 70 countries and 60% is for OEM market and wheel replacement market. Such as in USA, Canada, New Zealand, South Africa, European etc.
2.Storage: We regularly have large stock for our customer, it will be easy to provide assembly and wheel and make prompt shipment.
Quality: We are the Supplier of World top brands like CAT, KOM, VOL, etc. in China. We providing service for OEM machinery manufacturer, after sale market service station, mining contractor, construction support station all over the world.
3.Through our professional service experience, we have 600+ units of wheel rim drawings available for original Off-the-road equipment, OEM service is available here, if you can provide the detailed drawing.
4.24x7 after-sale services, 4 professional crew ready to service.
With more than 24 year history, Rarlong machinery has helped in increasing the base of loyal customers and winning over new customers.