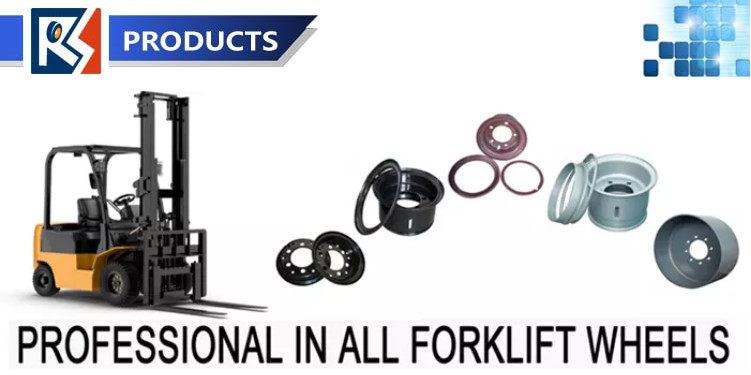 Forklift Wheel
As the only one forklift wheel producer that can make wheel hot rolled profiles in China ,our wheels and wheel components have been sold to more than 60 customers in and out of China.
Forklift wheel rim products include 8 inch to 24 inch split type,2-pc,3-pc and multi-piece for forklift, port machinery and supporting equipment etc.annual capacity is 200,000pcs. Top grade quality forklift wheel rims for forklift spare parts,we have the range to cover your every needs whether it be a replacement forklift wheel, forklift wheel repair of dual wheel forklift wheel conversion.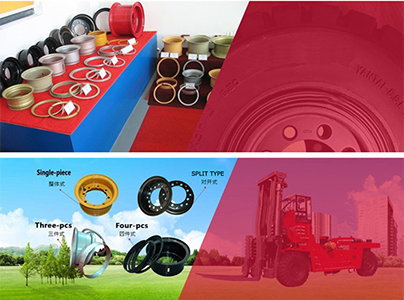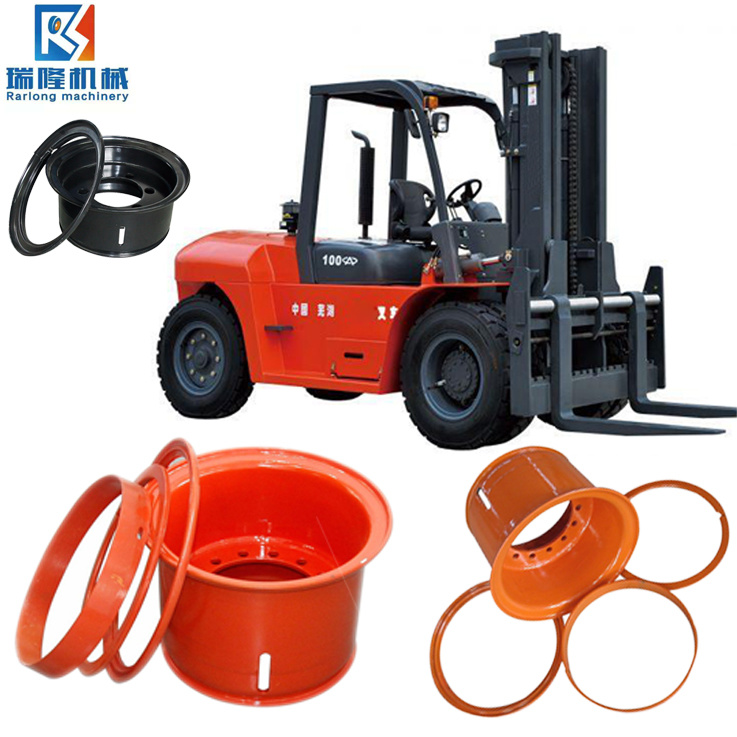 Multi piece forklift wheels
Multi piece forklift wheels from 8 op to 24 inch can be used for pneumatic and pneumatic shaped solid tires. Also suitable for solid Snap In Tires.Built for maximum durability and engineered to highest standards for maximum loads capability our in-house wheel manufacturing division build the very best multi piece forklift wheels to suit a wide variety of forklift brands and models.
Split wheels
Bolted together split wheels used for forklifts but also for airport ground support equipment and other industrial applications. Also available with hub and bearings.Many Japanese manufactured forklifts use a standard split forklift wheel on the steer and drive of forklifts under 2.5 tonne. These bolt together split wheels are readily available at our factory.
Specification list of forklift wheel rim

NO.

Wheel Size

Recommend Tire Size

Rim Type

1

3.00D-8

4.00-8

Split wheel

2

3.00D-8

15*4.5-8

3PCS

3

3.00D-8

15*4.5-8

4PCS

4

4.33R-8

18*7-8

Split wheel

5

4.33R-8

18*7-8

3PCS

6

4.00E-09

6.00-9

Split wheel

7

4.00E-09

6.00-9

3PCS

8

4.00E-09

6.00-9

4PCS

9

5.00F-10

6.50-10

Split wheel

10

5.00F-10

6.50-10

3PCS

11

5.00F-10

6.50-10

4PCS

12

5.00S-12

7.00-12

Split wheel

13

6.00E-09

21*8-9

3PCS

14

5.50F-15

7.00-15

2PCS

15

6.50-15

8.25-15

2PCS

16

7.00T-15

28*9-15

2PCS

17

7.50V-15

10.00-15

2PCS

18

8.00V-15

300-15

2PCS

19

6.00G-16

7.50-16

2PCS

20

5.50F-16

7.00-16

2PCS

21

6.50-16

8.25-16

2PCS

22

7.00T-16

9.00-16

2PCS

23

6.50-20

8.25-20

2PCS

24

7.00T-20

9.00-20

2PCS

25

7.50V-20

10.00-20

2PCS

26

8.00V-20

11.00-20

2PCS

27

8.50-20

12.00-20

2PCS

28

10.00-20

14.00-20

2PCS

29

8.50-24

12.00-24

2PCS

30

10.00-24

14.00-24

2PCS